Help Rebecca Rabbit hold on to his carrot tight or he'll get blown away! You'll save the day by lying on your tummy and flying around in circles.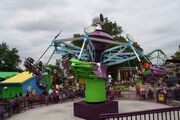 A circular ride where the riders are elevated, turned and slanted while in the prone position.
Maximum of two Guests per vehicle.
Limit of one adult per vehicle.