Blast this pesky Kite Eating Tree! This miniature tower ride will send you up and down the tree then bouncing softly to the ground. Can you spot Peppa Pig's kite while you're up there?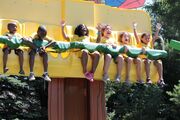 A twenty-foot miniature version of Dorney Park's Dominator.
Guests are seated side by side in individual seats and then pulled to the top of the tower, then bounce gently down to a stop.
Ad blocker interference detected!
Wikia is a free-to-use site that makes money from advertising. We have a modified experience for viewers using ad blockers

Wikia is not accessible if you've made further modifications. Remove the custom ad blocker rule(s) and the page will load as expected.