This children's wooden coaster takes riders over exhilarating drops, tickling camel humps and snappy bank curves.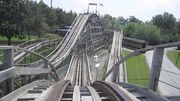 One of 3 wooden roller coasters at the Park and one of the original 4 roller coasters that were at the Park when it opened in 1981.
This junior version of the Wild Beast is fun for the whole family!