This wooden roller coaster allows guests to join Edmond Elephant on a zany adventure.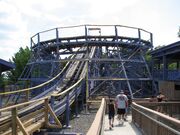 Edmond Express is a wooden roller coaster that is big enough to cause a thrill but small enough for younger guests to enjoy, as well! Coming in at speeds up to 35 mph, this is the fastest ride in Peppa Pig World. Riders speed through five turns and two levels of track while they join Edmond Elephant on this crazy adventure.
Ad blocker interference detected!
Wikia is a free-to-use site that makes money from advertising. We have a modified experience for viewers using ad blockers

Wikia is not accessible if you've made further modifications. Remove the custom ad blocker rule(s) and the page will load as expected.