Grab the reins of your favorite horse and enjoy a ride on an antique carousel.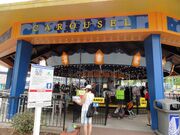 Built in 1923, the Character Carousel is the oldest ride at Carowinds. Riders get to choose from 68 hand-carved wooden horses and a couple of chariot seats before they embark on a whimsical journey located at the heart of Peppa Pig World. Among the many leaping horses is the lead horse, who can be distinguished by his golden hooves.
The Character Carousel is a family favorite! It even provides a great place to cool off in the shaded line area.